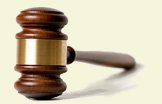 Ellington and Associates is a law firm dedicated to providing superior legal advice and counseling while maintaining a high standard of client satisfaction through exceptional customer service.  Our firm holds an "AV" rating, the highest rating given by Martindale-Hubbell®, the nation's leading law directory.  Ellington & Associates was established in 1995 and our office has moved to Sugar Land, Texas, outside of Houston.

The majority of our practice is concentrated in the areas of commercial accidents, insurance defense, insurance coverage, cargo claims, intermodal claims, trucking accidents, construction defects and construction accidents. We also handle environmental and toxic tort claims, such as asbestos, silicosis, and food poisoning.  Other areas of our practice include oil field accidents and injuries, property damage, maritime accidents, food poisoning cases, slip and falls, wrongful death cases and business disputes.  We are experienced in many levels of litigation including trial work, arbitration, mediation and negotiation among attorneys.

The firm prides itself in maintaining a high level of client satisfaction.  All of our clients are important to us and they all receive a high level of personal service and attention.
In a nutshell, our firm excels because we assess every matter on a case-by-case basis and dedicate ourselves to finding the most economic and efficient outcome for our clients. We look forward to helping you in the same manner.
Read more...
Personal Injury
Trucking Accidents
Maritime Claims
Trademark Infringement
Cargo Claims
Property Damage
Insurance Defense
Subrogation
Contract Disputes
Intermodal Claims
Commercial Construction
Residential Construction
Environmental Claims
Moving and Storage Claims
Accident Site Management
Wrongful Death
Food Poisoning
Products Liability
Medical Board Complaints
Insurance Coverage Opinions